It's the most important employee communication in any company.  Some call it the "Town Hall", the "All Hands" or even "Group Sync".  What ever you call it, it's critical that you hold them – using this time to talk with employees about the business.
Video has extended the reach for companies who've learned the secret to meetings.  They want to close their ranks, talking openly to get their messages out across all time zones.  Multi-camera video capture means your audiences are watching live or through video-on-demand streams from their desktops or mobile devices.  With a "studio capture" approach using multiple cameras, viewers get the sense they were there – in the room experiencing the event as it happened from various angles.
The All Hands meeting is usually 60 to 90 minutes.  They are held quarterly or in larger companies, monthly.  We know of a giant search company that meets weekly!  The segments are short to keep the audiences engaged.  Speakers are usually leaders in the company who report on how the business is doing.  The best companies also use the meeting time to celebrate employee accomplishments.  They give recognitions and awards.  With the entire company watching, they build on their culture using the time to tighten the ranks and get everybody rowing the same direction.
Video plays an important component in every meeting.  Companies that pre-produce videos to kick-off the meeting, start with a montage of news clips, funny videos or a video showcase of "sales wins" or product developments.  
In some cases, live video is brought into the room from remote presenters usually via satellite or conferencing bridge.  And in case your leader has a flair for the dramatic, "surprise entrances" are always fun ways to keep employees engaged.
Well planned, well produced meetings are golden for companies looking to engage top talent and grow their revenue.  The best presenters are polished performers who are captivating to watch.  They do monologues, lead panels and moderate live Q&A sessions.  Leaders do what they do best – lead!
Behind the scenes, a talented technical team of producers and technicians will keep everything running smoothly and on schedule.  Slides and notes go to all the right screens, videos are played – music bridges cranked up.  Webcasts are monitored and in this example above, Rheacom worked in Tokyo with a very bright multi-lingual team.  Special thanks to Richard Kipnis.
Here's a few tips to make your All Hands Meeting video capture a success:
–  Use 3 or 4 cameras.  Place them at various points of view so you can capture the experience for those not in the room.
–  Keep the cameras moving.  Use a camera crane.  In some instances, a robotic camera system will give you excellent quality, lower costs and less obtrusive camera positions.
–  Have a back-up in place for everything.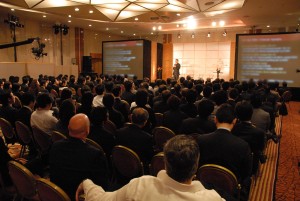 –  Create a "look" using lighting, sets and furniture.
  –  Rehearse.  Invest the time to make sure everyone is comfortable with your show.   Especially the presenters.
  –  Record the meeting for on demand video replay.  Make sure you cut in all your slides and videos to give the viewer the best experience.
  – Use humor to keep it light.  Don't just talk about the heavy stuff.  Have some fun.
  – Make your financial reports easy to understand.  Most employees just want to know how well the company is doing.  Are we making money?  How big is the bonus payout?  They want to see other employees recognized.
– Make the fonts on your Powerpoint slides large enough for those sitting on the back row.  No eye charts.  Really – you'll never see the small type – especially once on the web.  Less is more.
– Pay your event company to provide refreshments and snacks for the audience.
– Host the meeting in various locations around the world.  Use the executive travel to hold private customer meetings before or after the All Hands.  Take tours of facilities.  Get teams together that don't normally see each other.
The All Hands is your time.  Make the most of it.   Communicate openly and honestly.  And by all means, never hold a meeting with all your top execs without capturing HD video.  Keep the video engaging – would you want to watch a boring show?  Make sure it sizzles.  Have an employee band perform.  It's good to have a recording of the event. For those that couldn't be there to watch it live – they can simply hit the link to watch anytime.
###
Brian Rhea is a veteran Technical Director/Executive Producer at Rhea Communications, Inc.