Before you go live, discover some new ways to make your content more visually interesting.
Are you producing a Corporate Town Hall or All Hands Meeting webcast?  Relax!  We live in the greatest time ever for the real communicators in Corporate Communications.  Until now, it has been impossible to produce content to air over your world wide TV network.
The Internet has given us freedom to bring "live" and "on demand" video content to our audiences with passion and flair.  But before you get on stage – discover some new ways to showcase your Executives.
Time to loose the "big bar stools" and make a comfortable talk set.
If you're doing a "talk show segment" you don't need to spend thousands on a custom set.  With drapery, uplights, plants, a table and relaxing chairs and you're ready for a prime time interview segment.  Nothing to build here.  Just set up a riser, run your drape, trim with plants and lights and it's almost showtime.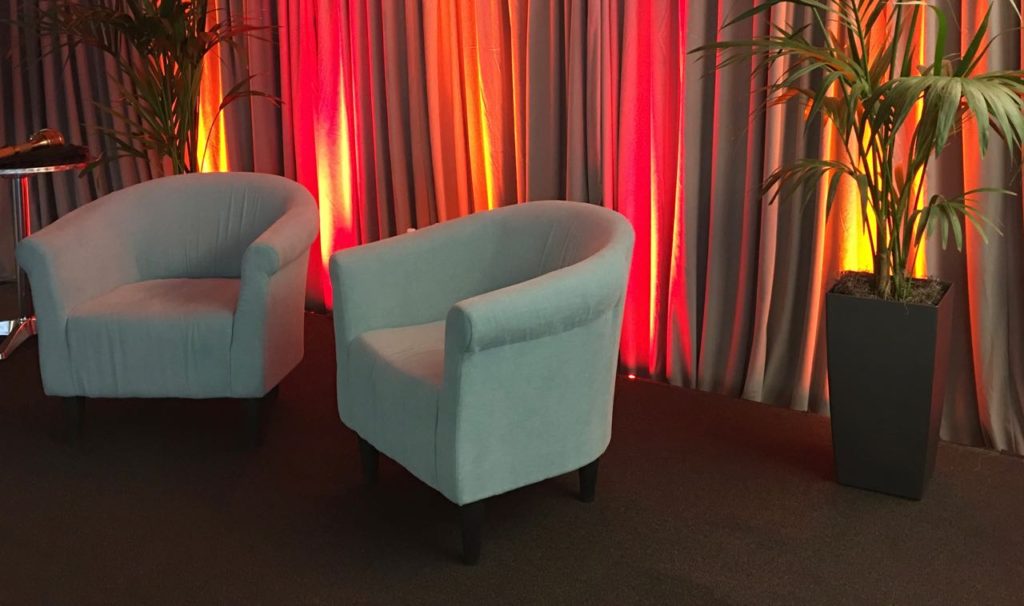 "Can't we just do this production ourselves to save money?"
It's tempting to want to run out and purchase all the broadcast video equipment to do this in-house.  We hear this from time to time.  "Can't we save money doing it this way?"
It's been our experience working with top companies that providing a technical solution takes a team of dedicated people who do this all of the time, with equipment that is properly maintained, tested and operated.  I've said this many times.  "You can buy your art supplies at the same store Thomas Kinkade would buy from, but it took, 'The Painter of Light' with all of his talent and years of experience to create a gem".  Our pact with customers is to keep the budget reasonable – equipment portable, state-of-the-art and bring it to the event every time – so they don't have to hassle with staying current and paying in-house production staff.
We bring a high quality robotic "multi-camera" fly pack system that sets up quickly on location anywhere bringing quality broadcast video production to give you an image of professionalism.
Town Hall and All Hands Meeting webcasts take a lot of planning.  You work very hard on content.  Don't let the production (or lack of it) get in the way of your message.
Video webcasting in HD is here.  Create content that cuts through so your audience will "Get The Message".
###
Brian Rhea is the Executive Producer at Rhea Communications – a rollicking band of live event video minstrel's ready to carry out your next global communication.