Rhea Communications turns your training rooms to video webcast studios
We love working in corporate employee communications.  We're always saving clients money by turning cross-functional conference rooms into "studio sets" for live video webcasts.  Offsite meeting space rental is so expensive and the logistics of driving attendance is difficult.  No buses to charter.  Employees can simply walk to meetings in your building.  With Rheacom on-site video webcast production, we bring the studio to you.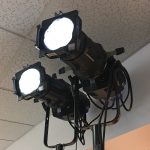 Your audience sees a quality product that never distracts from the message.  We keep audiences engaged through a variety of camera angles – up to 4 robotic cameras.   Our veteran crew with top broadcast equipment can set up quickly and efficiently.  We just plug into your public Internet and go live with your presenters and slide content!
We're a turn-key team player to help you get your message out – on schedule on budget!  If you're looking to save money and don't feel comfortable going it alone, let's sync up.