Here's a few Facebook Video tips from an experienced video webcast producer.
When our phone rings at Rhea Communications, Inc., a boutique digital media production company in the Silicon Valley, the client has an important message to communicate. So, when John Hessler of Hessler Productions called, his client was asked to stream three hours of Facebook video for a large global audience ready to watch and learn.
The great news – this is an amazing time for creative video communications. Your social media audience is liking live and on-demand video content on their desktop and mobile devices. Facebook does this very well and the possibilities for public or private video is remarkable.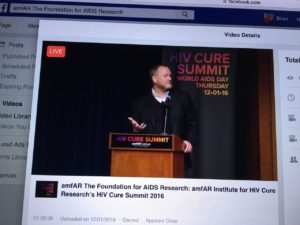 So now the producer questions begin:
Where is the event?
Is there a proper hardline IP connection?
Can we come do a speed test and site survey for pre-production planning?
How about distances to the jack?
Who is doing lights/sound?
Can we get a camera riser?
What is the nature of the presentation – speaker with slides, video? A panel?
Will there by any music or copy written material presented?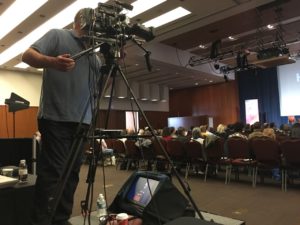 What we find in some instances, is that there are only guesses about the tech specs and little time for a proper site survey to confirm information. You can be told there's fast, reliable connectivity but that might not actually be the case. Maybe the camera riser wasn't ordered or you're only going to get 2 hours to load in, set up and begin streaming. There's so many gotcha's in media production. In any event – it's all part of our world of planning for success, managing expectations and minimizing risk.
Here's a few thoughts about Facebook video that I've learned.
The new publishing tools are great – streaming video to your audience live and on-demand. We bring HD-SDI video to social media from a single camera to multiple camera productions with slides and video playback.
4Mbps 720P video looks great. Finally no more small frame, low bit rate commercial webcasts. The audience now expects this.
Stream up to 4 hours – That's the current max but really that's a ton of content in a single stream.
You have choices for software or hardware encoders. The encoder is how you compress and transcode the video so it will stream. We have found Wirecast to be excellent for Facebook.
Don't start streaming too early. Wait till about 30 seconds before the start of your event as it takes some time for the stream to establish. This is important for your replay audience.
Make sure you aren't sending any content that could be blocked by Facebook. This would include any music or videos.
Photography is very important. Make sure your camera operator can properly frame the subject. Focus and iris settings are critical to make sure the video is nice and crisp.
Audio can sometimes be low. It's critical that your sound tech can boost the presenter if they are soft spoken or move off mic.
Once the presentation is over, you can end the stream and Facebook does the rest. The replay should be up in minutes – even longer shows like ours at nearly 3 hours.
For more information or to start a conversation about your next Facebook Live event, we're happy to help.
###
Brian Rhea is a veteran Technical Director/Executive Producer at Rhea Communications, Inc.  brian@rheacom.com