5 Camera Live Switch to Facebook Reveals Cadillac's new Concept Car
Without question, the annual Concours d'Elegance at Pebble Beach, California is an homage to the automobile industry world-wide.  When Cadillac's social media Agency Rokkan reached out to find a west coast production company, they selected Rhea Communications through Facebook's relationship with partner Groovy Gecko and our friends at A Crew4U in London.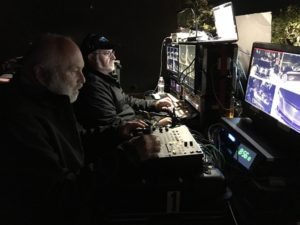 We loved working on this show.  However, the biggest challenge would be bandwidth on location.  The "Cadillac House" was a top a mountain at a sprawling $35M estate with magnificent views of the Monterey Bay, but the only challenge was an over-taxed cellular network (with no dedicated landline available).  With a few hundred invited guests and eager media competing for cell tower coverage, we had to be sure we could get out with at least 4Mbps for live HD to Facebook.  Our friends at Atomic Imaging provided a bonded cellular package that averaged 5 radios from two carriers.
Once the live shot went off without a hitch, we then captured an interview with the Cadillac lead designer of the "Escala" concept car for on site post production editing and upload to Facebook and YouTube. 
Rheacom Director of Photography and robotic camera veteran Danny Zemanek and Video TD/Engineer Conrad Slater (inset photo) braved the whispy fog and tight rooftop load-in to cut pristine images from 5 cameras for the live video webcast.  The event was elegant at every turn.  No exposed wires, very carefully placed cameras and tight security.  No cameras could take any images at any time until the reveal.  Security made sure all phones were wrapped with a tape over smart phone camera lenses.  The event company transformed the space with comfortable furniture and loads to nosh on for the adoring fans who witnessed the president of Cadillac, Johan de Nysschen cue the slick silk reveal.
Executive Director, Cadillac Global Design – Andrew Smith takes us inside the creation of this sleek one-of-a-kind concept car.