Mountain View, CA.  In a recent live tent meeting event, our web production team provided a continuous HD video webcast viewed by hundreds all over the world.  Redundant IP streams left the venue on two Enterprise Livestream accounts.  Rheacom set up the events to be private non-searchable with password protection.  The user interface was branded with photos and company logos.  While the feed was a single camera, picture in picture stream, Rheacom provided discrete video switching to the large 10,000 lumen projection screens and web feed.  Multiple cameras would be an easy update to take in more of the tent environment and help bring faces to Question and Answer period.  A call bridge was used for the audio only "listen line" for those without web connectivity.  Walk in and walk out music was provided by the customer and all had a great time taking a short walk from their office to the spacious waiting tent.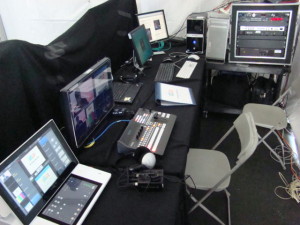 Could this be the convenient time and money saving maneuver your company is considering for All Hands?  With the diesel generator purring away and secure IP and phone lines deployed, the company parking lot is the best use of ad hoc space when the goal is to gather hundreds in the tent, while hundreds or thousands more watch live in HD via webcast on any device – even mobile ones.
Contact Rhea Communications today for your next event under the big top.  Consider live video and live on demand replays for those employees in world time zones.